River Water Treatment Plant at Pepsi- Sermsuk
Client: Serm Suk (Public) Co., Ltd.
Location: Pathumthani
Features:
River intake and pumping station with a permit work. Turnkey design and construction including the study for the complete WTP, sludge dewatering with  on-line monitoring of water quality.
Benefits: Reduce the use of groundwater with substantial return of investment in a short period.
Completion Date: April 2001; 12 months period
Cost: 36,850,000 Baht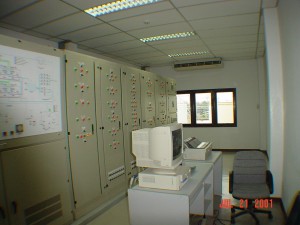 The Client had contemplated the investment in a river water treatment plant to replace the deepwell water supply. Initial study by the local consultant led to the feasible investment of a new river water treatment plant to reduce the use of deepwell in non-product water consumption.
Aquathai was awarded the turnkey construction of a new water treatment plant with a technical merit featuring the detail design, permit, construction, procurement, installation and commissioning of a water treatment plant in their existing bottling plant in Pathumthani.
The new water treatment plant include the following work:
River intake and pumping station
250 m3/h water treatment plant with:

One (1) RC high rate clarifier
Vertical filters in steel tank complete with automatic
backwash facility

Chemical handling and feeding system
Transmission Pumping Station
Sludge thickener and dewatering machine by a belt press unit complete with flocculator and polymer feeding
Electrical work
On-line monitoring of water quality
An Administration building housing a sludge dewatering room, control room, office/meeting room, a laboratory and chemical room Fence and access road with landscape