JATUJAK (BMA-4) WASTEWATER TREATMENT PLANT BANGKOK, THAILAND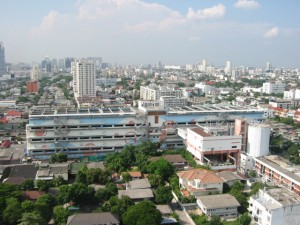 SUMMARY
The project involves the turnkey design, construction, commissioning, and operation (one year) of the wastewater collection and treatment facilities for the Bangkok Metropolitan Authority. The BMA 4 wastewater treatment plant is the second major multilevel wastewater facility to use the SBR process.  The first project was the Yannawa (or Chong Nonsi) WWTP facility, which has been successfully operating for more than five years, treating a wide variation in flows and loads, which were significantly different from design specifications.  Like the Yannawa project, the BMA 4 plant will treat a population equivalent of 500,000, with a second phase expected to double to 1,000,000 by the year 2020. BMA 4 service area of 33 square kilometres is located on the eastern side of the Chao Phraya River, north of central Bangkok.
The BMA 4 site is very confined in a residential area with limited space available.  The plant comprises inlet pumping, screening and grit removal, and eight SBR basins on four separate levels. The sludge treatment system uses belt thickening, anaerobic digestion, and belt press dewatering to produce a 20% d.s. cake for disposal.  Odour control facilities are also provided.
The plant is designed to achieve a very high effluent standard including nitrogen and phosphorus removal.  Large fluctuations in biological and hydraulic load are automatically accommodated with the flexibility and control offered by the operational time cycles.