Mahasawat Water Treatment Plant Phase I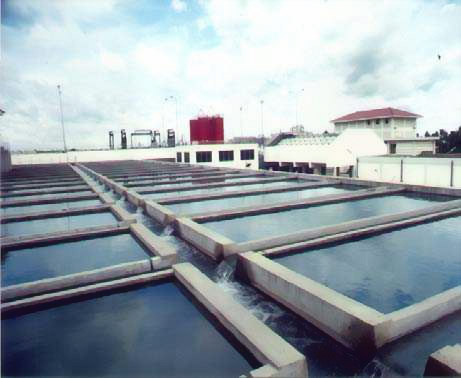 Client: Metropolitan Waterworks Authority (MWA)
Location: Nonthaburi, Thailand
Features: Large scale WTP with advance processes at the time.
Completion Date: 29 December 1995
Contract Value: THB 239,000,000 of total 1,931 MB
Aquathai had worked as a subcontractor to the Consortium of ITD-DGT-ITI. The project is one of the single largest water treatment plants and situated in the West Bangkok. The plant is the first phase of its 8 phases, with a nominal capacity at 400,000 m3/d, each.
The scope of work include the local supply and installation of mechanical and electrical work with a commissioning service of the follow Raw water pumping with rotating screen
Aeration cascade
Two(2)x 210,000 m3/d Pulsator Clarifiers
Eight(8)x52,500 m3/d Aquazur V Filterswing equipment:
Chemical handling and dosing

Lime saturator
Gas Chlorinators and neutralization

Alum
Transmission pumping station
Sludge lagoon
Transmission pumping station
Sludge lagoon
On-Line Laboratory
Control and instrument and electrical work
Substation
Central Sanitary Wastewater Treatment Plant
Tools for Workshop