Bangsue Wastewater Treatment Plant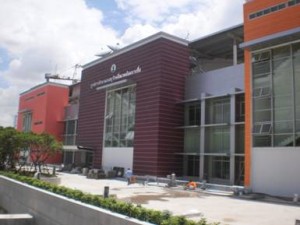 Client: Bangkok Metropolitan Administration (BMA) through Ch Karnchang (CK-main contractor)
Location: Suan Rodfai Park, Bangkok, Thailand
Highlight of Features:
The step-feed aeration activated sludge wastewater treatment plant constructed underground. The above ground floors feature show place for knowledge and education center. The plant complete with an effluent reuse using membrane system.
The plant is buried with compact arrangement. Coordination is necessary during the construction work. Tight schedule is a challenge.
Construction time: Approx. 2 years for main contract with extension of time granted.
Completion Date: August 22, 2013.
Contract Value : 109 MB
Aquathai is the mechanical subcontractor to CK for the Bangsue wastewater treatment plant. The WWTP of 150,000 m3/d capacity for the first phase situates in Rodfai Park near Jatujak weekend market. It is built underground with beautiful landscape and architectural work for the building on the ground floor.
The scope of service included mechanical, chemical and pipework supply, installation and commissioning for the wastewater treatment work.
The wastewater treatment system includes:
Inlet Pumping System.
Pretreatment system- Automatic Coarse and Fine Screen, Belt conveyor, Vortex Grit Removal and Grit Classifier and cranes.
Secondary treatment system, step-feed aeration activated sludge process, centrifugal air blowers, ceramic tube air diffusers grid, submersible mixers, secondary clarifier siphon type with scum pump, RAS and WAS pumps and cranes. (partial scope)
Chemical system (NaOH, NaOCl, methanol and ferric chloride)
Tertiary treatment system with a UF membrane skid.(By Other)
Sludge handling process using a belt press sludge dewatering machine and polymer system.(Dewatering Machine by Other)
Effluent pumping station and re-aeration.
Pipe works, valves, fitting and support.
Electrical, control and instrument work including PLC (out of scope)
Testing, Start-Up and Commissiong.