G-MS4-8 Expansion of Mahasawat Water Treatment Plant
and Related Works
Client: Metropolitan Waterworks Authority (MWA)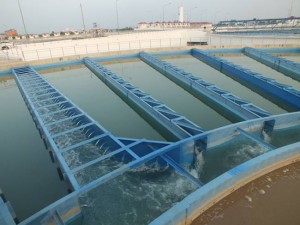 Location: Nonthaburi , Thailand
Features: Large scale WTP with common facility saving the capital expenditure and
operation and maintenance cost.
Construction Completion Date:
-Start Date: December 4, 2009
-Finished Construction &Commissioning:   March 4, 2014
-Waiting for Supervision of Operation&Maintenance 1 year.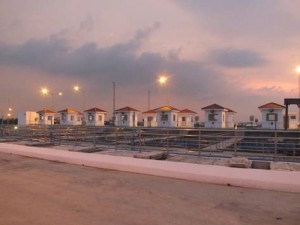 Contract Value: 341 MB of total 790.3 MB
Aquathai had worked as a consortium partner to the Consortium of ITA (ITD – AQT). As part of the Seventh Master Plan of MWA, the project is on turnkey basis for Clarifier Process,Filter Process,Sludge and Wash Wash Water System. The expansion is a replica of a process train of Phase 3. The plant is the fourth phase of its 8 phases, with a nominal capacity at 420,000 m3/d, each.
The scope of work include the local supply and installation of mechanical and electrical work with a commissioning service of the following equipment:
Raw water channel /Phashall Flue and accesses road.
Two(2)x 210,000 m3/d Solid Contact Clarifiers
Fourteen(14)x300500 m3/d Dual Media Filters
Chemical handling and dosing

KMnO4
Lime
Gas Chlorinators
Alum
 Polymer

Control and instrument and electrical work
Interconnection to the Phase III